In a world where social media is a dominant force, privacy and anonymity are increasingly valuable commodities. Whether you're concerned about personal security, sharing sensitive content, or simply want to maintain a separate online presence, creating an anonymous Instagram account can provide you with the discretion you desire.
But how can you master the art of discretion on a popular platform like Instagram?
In this step-by-step guide, we will walk you through the process of creating an anonymous Instagram account, allowing you to freely express yourself while keeping your true identity concealed.
Now, Let's embrace the power of discretion and fully enjoy the benefits of an anonymous online persona.
The Importance of Anonymity on Social Media
In a world where personal information is often readily available, maintaining anonymity on social media platforms like Instagram is crucial.
The risks associated with sharing personal information online are numerous and can have serious consequences. From identity theft to online harassment, the potential risks are a stark reminder of the importance of discretion.
By creating an anonymous Instagram account, you can take control of your online presence, protecting your personal information from prying eyes. Anonymity allows you to express yourself freely without the fear of judgment or repercussions. It offers a level of protection and security that is increasingly valued in today's digital landscape.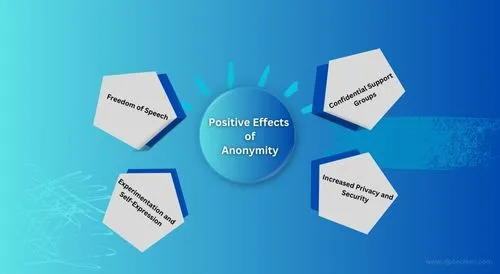 How does anonymity on Instagram affect online behavior?
Being anonymous on Instagram can affect the online behavior of any Instagram User. Though it can create positive behavior like Increased Honesty and supporting communities, it can be a base point for negative interactions like abusive/hateful speech.
How do Instagram's policies support or hinder user anonymity?
Though Instagram provides all the supportive features to be expressive, having an anonymous account on Instagram is also easily achievable. Instagram will not hinder user anonymity; they have even provided features to enhance user privacy.
Why is preserving anonymity important in the age of social media?
Though being expressive on Instagram can benefit you with increased visibility, a supportive community, and many more benefits but it comes with a cost, however having an anonymous account can also offer you benefits like increased privacy and security, freedom of speech, creative expression, safety from harassment, etc.
However, abusive use of anonymity can lead to the suspension or termination of your Instagram account.
Are there any success stories of individuals or movements that relied on anonymity on Instagram?
Yes, individuals and movements like @Banksy, @thegoodquote, and #MetooMovement are some of the several successful individuals and moments that have relied on anonymity on Instagram to achieve their goals.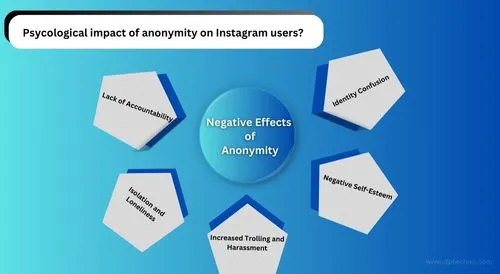 What are the psychological impact of anonymity on Instagram users?
Depending on the individual and their intentions for maintaining anonymity, the psychological impact of anonymity on Instagram users can vary widely.
Here are some of the positive and negative psychological effects that anonymity on Instagram can have:
Positive psychological effects of Anonymity on Instagram:
Increased Privacy and Security
Experimentation and Self-Expression
Confidential Support Groups
Freedom of Speech
Negative psychological effects of Anonymity on Instagram:
Lack of Accountability
Isolation and Loneliness
Identity Confusion
Negative Self-Esteem
Increased Trolling and Harassment
Understanding the Risks of Sharing Personal Information Online
Sharing personal information online can have far-reaching consequences. Once information is out there, it can be challenging to control its spread or remove it entirely. Cybercriminals and malicious actors can exploit personal information for various purposes, including identity theft, cyberstalking, or even blackmail.
Additionally, sharing personal information on a public platform like Instagram opens the door to unwanted attention and potential harassment. It's essential to be mindful of the information you share and consider the potential risks and consequences before posting anything online.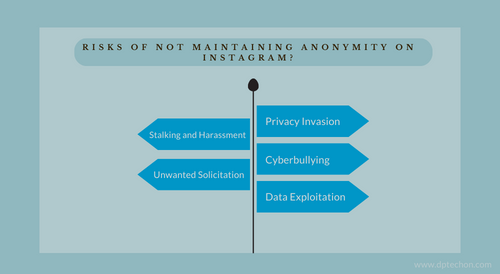 What are the risks of not maintaining anonymity on Instagram?
Though most of the privacy and security issues can be avoided with the use of Instagram's privacy features, not having an anonymous Instagram can harm you with issues such as,
Privacy Invasion
Stalking and Harassment
Cyberbullying
Unwanted Solicitation
Data Exploitation
Can you remain truly anonymous on Instagram, and if so, how?
Yes, you can attain complete anonymity on Instagram. Though there are many ways to create anonymity on Instagram, the popular and safe way is by creating a fake Instagram account with a concealed identity and enhancing its anonymity by the enhanced use of privacy features.
What are the potential downsides or drawbacks of being anonymous on Instagram?
Though having an anonymous account on Instagram offers many benefits, there are also possible disadvantages. Some of the potential drawbacks of being anonymous on Instagram are:
Lack of Accountability
Limited Trust
Reduced Engagement rate
Difficulty in building relationships
Restricted collaborations
Less Credibility
Missed opportunities
Ineffective Advocacy
Potential for Legal Challenges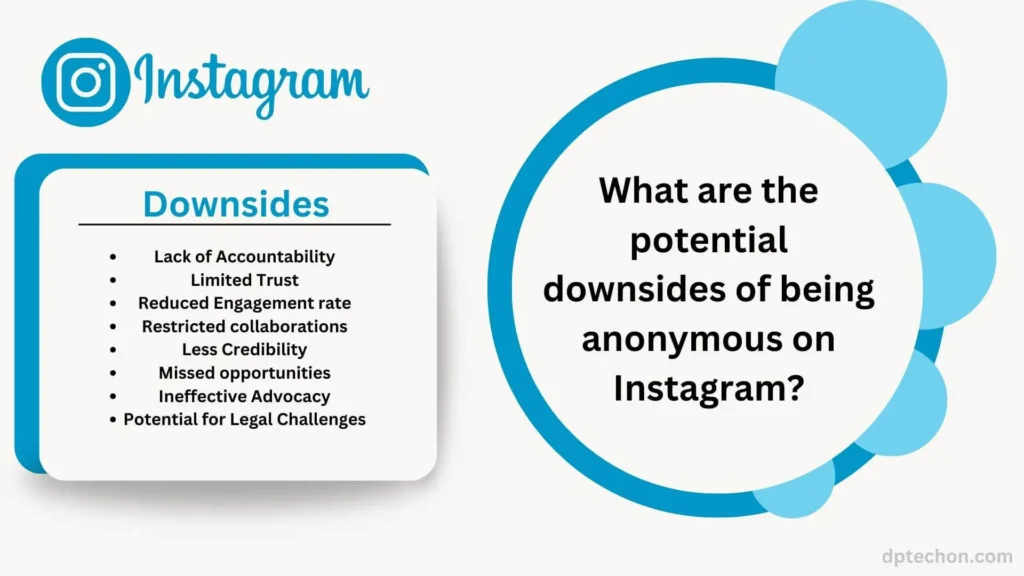 What are the legal aspects of anonymity on social media platforms like Instagram?
While being anonymous on Instagram can provide enhanced privacy, security, and many other benefits, it doesn't exempt users from legal responsibilities.
The legal aspects of having an anonymous online presence on social media platforms like Instagram can be complex and are subject to various laws and regulations.
So, here are some legal aspects for you to consider:
Terms of Service
Impersonation
Copyright and Intellectual Property
Privacy laws
Child Protection
Free Speech Limitations
Why Use Anonymous Accounts on Instagram?
Instagram, with its massive user base and visually focused content, allows individuals to express themselves through images and captions while maintaining their privacy.
The platform's user-friendly interface and widespread popularity make it an ideal choice for creating an anonymous online presence.
Furthermore, Instagram's privacy settings and features enable users to control who can see their content, interact with them, and discover their accounts.
By leveraging these settings effectively, you can maintain a high level of anonymity while still engaging with the Instagram community.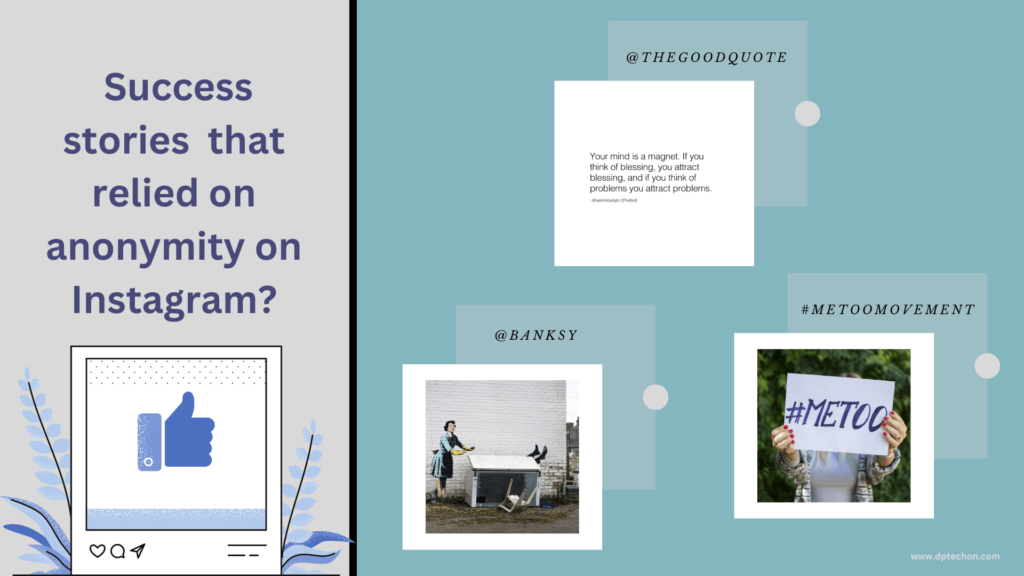 What steps can parents take to protect their children's anonymity on Instagram?
Instagram has developed and offered many privacy and security features for their users. In that way, they have also offered supervision and parental control options.
Using these supervision and parental control features, parents can supervise, limit, and protect their child's online activity and protect their privacy and anonymity.
How To Create an Anonymous Instagram Account?
There are many ways to create an anonymous Instagram Account, In our blog we have covered "How to create an Anonymous Instagram Account".
If you want to convert your pre-existing Instagram account we have written a blog post about " How to convert your Instagram Account to an Anonymous Account".
If you're trying to create an anonymous account just to view Instagram stories and live streams anonymously, we have also written about the "Top 10 free tools to view Instagram Stories Anonymously"
So feel free to read our few other blog posts.
Here are a few general ways to create an anonymous Instagram Account
Step 1: Choosing a Unique Username and Profile Picture
Choosing the right username and profile picture is crucial when creating an anonymous Instagram account. Your username should be distinct and unrelated to any personal information, ensuring that it doesn't reveal your identity. Avoid using any part of your real name, birthdate, or other identifiable information.
Similarly, your profile picture should be something generic or unrelated to your true identity. Using an image that doesn't include your face or any recognizable features can help maintain your anonymity. Consider using abstract images, nature photos, or even artwork as your profile picture.
It's important to note that consistency is key when it comes to maintaining anonymity. Avoid using the same username or profile picture across multiple platforms to prevent anyone from connecting your anonymous Instagram account to your real identity.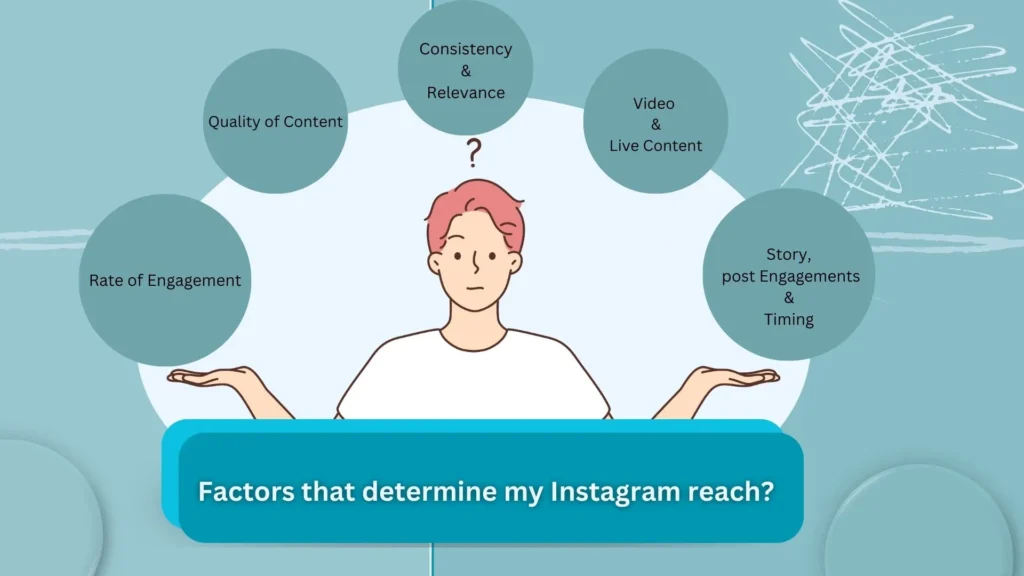 Is there a way to balance anonymity and authenticity on Instagram?
Yes, by extensively using Instagram's privacy features you can strike a balance between anonymity and authenticity on Instagram.
How does Instagram's algorithm treat anonymous accounts?
Instagram's algorithm promotes Instagram handles that are actively participating and expressive. However, if you have enabled certain privacy features, like a privacy account, the visibility of your Instagram account can be reduced significantly.
Some of the factors that determine how your Instagram account is perceived in the eyes of Instagram's algorithm are:
Rate of Engagement
Relevance
Consistency
Quality of Content
Story and post Engagements
Video and Live Content
Timing
Step 2: Adjusting Privacy Settings for Maximum Anonymity
Instagram offers a range of privacy settings that can help you maintain anonymity. Start by ensuring that your account is set to private rather than public. This way, only approved followers will be able to see your posts and interact with your account.
Additionally, consider disabling location services and removing any personal information from your profile, such as your phone number or email address. Be cautious about the information you share in your bio or captions, as even seemingly innocent details can provide clues to your identity.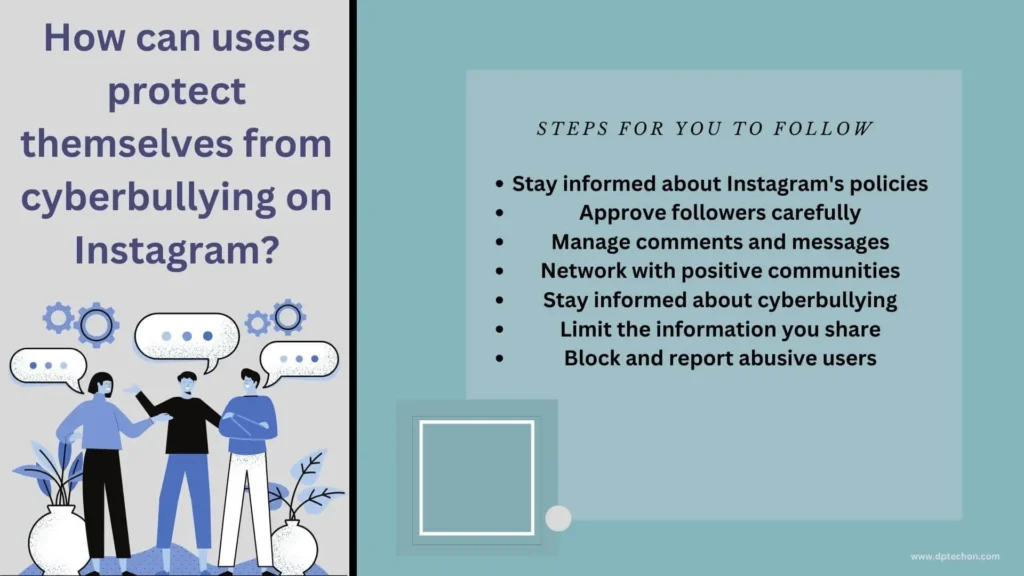 Regularly review and update your privacy settings to ensure they align with your desired level of anonymity. Instagram occasionally updates its privacy features, so staying informed and adjusting your settings accordingly is crucial.
Are there tools and strategies to enhance privacy and security while using Instagram?
Yes, Though Instagram provides many tools to secure users privacy and safety there are strategies and third-party tools to enhance privacy and security while using Instagram.
Some of these privacy and security strategies are,
Usage of Private Account
Manage comment and message filters
Review and Revoke Third-party app access on Instagram
Beware of Scams and watch out for phishing attempts.
Monitor your account activity
Report Suspicious Activity
Is Instagram likely to introduce new features or policies that could impact user anonymity in the future?
Yes, Since Instagram is continuously evolving to satisfy user needs, enhance user safety, and take on new challenges. It is very practical that Instagram will continue to roll out new features and regulations that could one day affect user anonymity.
How can users protect themselves from cyberbullying on Instagram through anonymity?
Instagram is a platform that encourages users to positively connect with people. Though they provide many tools to protect their users from cyberbullying, having an anonymous profile can also protect users from cyberbullying.
So, here are some steps for you to follow to reduce the risk and diminish the effects of cyberbullying:
Stay informed about Instagram's policies
Approve followers carefully
Manage comments and messages
Network with positive communities
Stay informed about cyberbullying
Limit the information you share
Block and report abusive users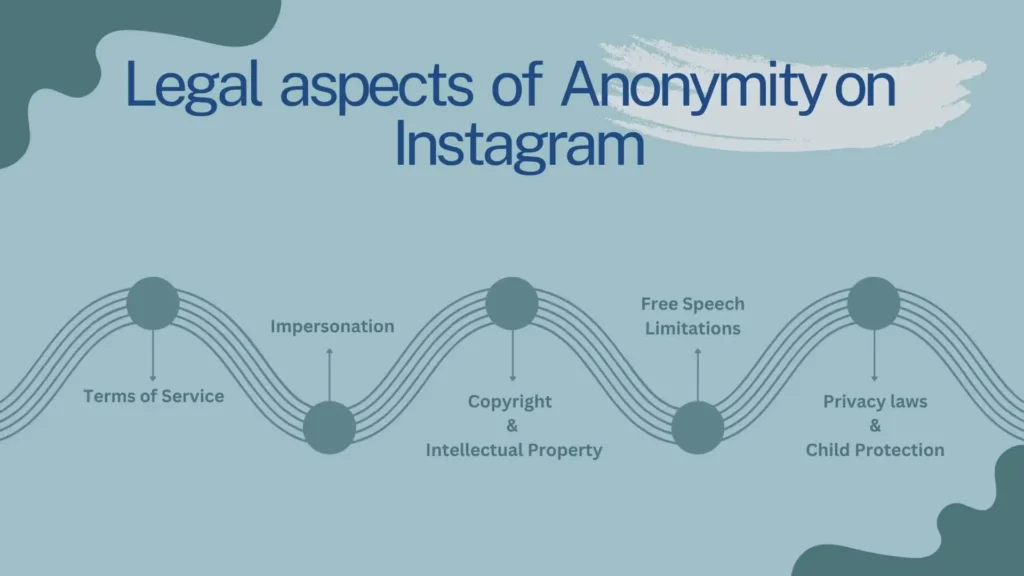 Step 3: Create a New Email Address for the Account
To further enhance your anonymity, create a new email address specifically for your anonymous Instagram account. Avoid using any personal information in the email address or username. Sign up for a free email service provider that doesn't require phone number verification to maintain your anonymity.
Separating your anonymous account from your primary email address adds an extra layer of protection, preventing anyone from connecting your online activities to your real identity.
Be sure to use this email address exclusively for your anonymous Instagram account and avoid linking it to any other online profiles.
How does anonymity on Instagram impact the spread of fake news and misinformation?
Due to the lack of accountability, authenticity, and the use of pseudonyms for false authority, anonymity on Instagram can possibly have a significant impact on the spread of fake news and misinformation.
Step 4: Using a Virtual Private Network (VPN) for Added Security
A virtual private network (VPN) is a powerful tool for maintaining online anonymity. By encrypting your internet connection and routing it through a remote server, a VPN conceals your IP address, making it difficult for others to trace your online activities back to your physical location.
When creating and managing an anonymous Instagram account, using a reputable VPN service can enhance your privacy and security. Choose a VPN provider that prioritizes user privacy, offers strong encryption, and has servers in various locations. This way, you can select a server in a different country to further obfuscate your online presence.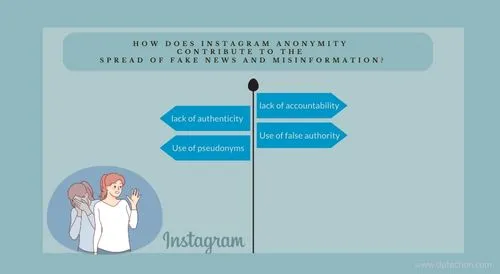 Step 5: Posting Content While Maintaining Anonymity
When posting content on your anonymous Instagram account, it's essential to strike a balance between self-expression and maintaining your anonymity.
Consider the following tips to ensure your content doesn't reveal your true identity:
Avoid sharing location-specific details or landmarks in your posts.
Be mindful of any identifiable objects or backgrounds in your photos.
Blur or cover any identifiable features in images, such as faces or license plates.
Use generic captions that don't provide personal information or insights into your real life.
Refrain from mentioning specific events or activities that could give away your identity.
By following these guidelines, you can create and share content while remaining anonymous and protecting your privacy.
How do influencers and celebrities balance their public personas with the need for privacy and anonymity on Instagram?
When it comes to balancing their public personas with the need for privacy and anonymity, influencers and celebrities often face their own unique challenges on Instagram.
These are some strategies that influencers and celebrities use to navigate themselves from this delicate situation.
Control over Sharing
Separate personal and professional accounts
Selective Sharing
Sharing with purpose
Pseudonyms and Nicknames
Transparency about boundaries
Maintaining Authenticity
Professional Support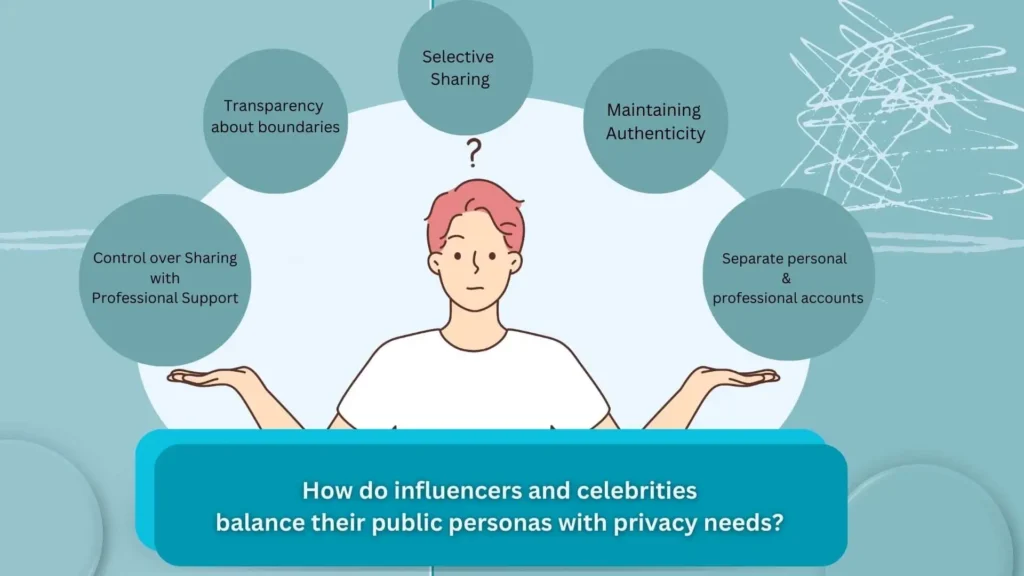 What are the best practices for maintaining anonymity while using Instagram for activism or social causes?
Keeping your identity and safety hidden when using Instagram for promoting activism or sharing social concerns can be a crucial tactic.
Here are some best practices to follow to maintain your anonymity on Instagram.
Use a Pseudonym
Secure your Email
Limit Personally Identifiable Information (PII)
Have separate personal and activist account
Network and collaborate safely
Stay informed about platform policies
Stay positive and Constructive
Step 6: Interacting with Others on Instagram Without Revealing Your Identity
Interacting with others on Instagram can be enjoyable, even when maintaining anonymity. However, it's essential to be cautious about how you engage with other users to avoid accidentally revealing your identity. Consider the following tips:
Use a generic and non-identifiable username when commenting on other posts.
Avoid engaging in conversations that could lead to revealing personal information.
Refrain from mentioning specific details about your personal life or experiences.
Be aware of your digital footprint and how your interactions could potentially be traced back to you.
Don't provide any personal information when responding to direct messages or comments.
By being mindful of how you interact with others, you can maintain your anonymity while still enjoying the social aspect of Instagram.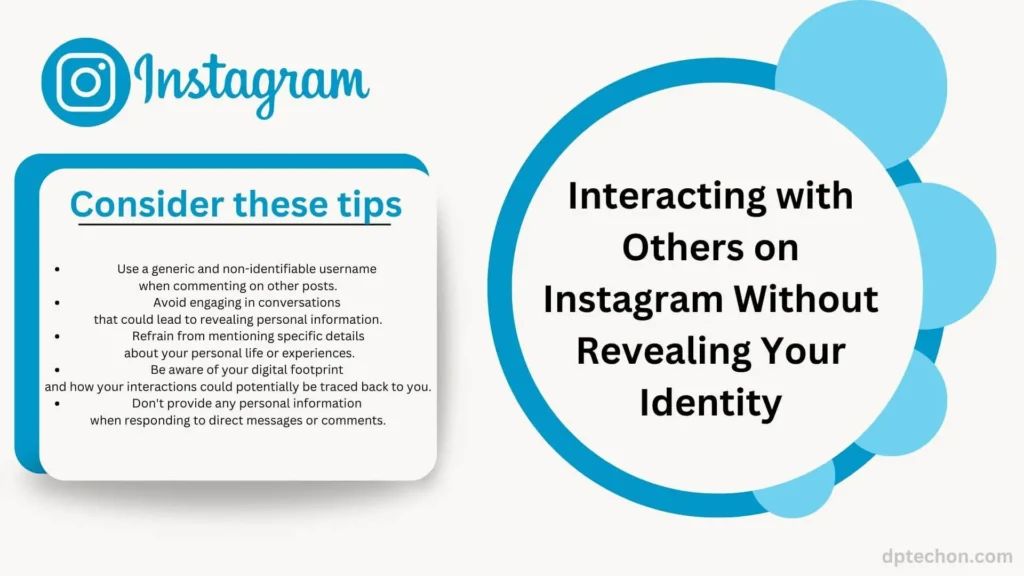 Is there a difference in engagement and content quality between anonymous and non-anonymous Instagram users?
Yes, being anonymous on Instagram can have a potential negative impact on your content reach and engagement rate; however, having an anonymous account doesn't hinder your content quality in any way.
As your engagement and potential reach on Instagram are determined by your content relevance, engagement rate, content quality, accountability, consistency, etc. Having an anonymous account can have a negative impact on your potential reach on Instagram.
How can businesses benefit from maintaining an anonymous presence on Instagram?
By maintaining an anonymous online presence on Instagram, businesses can have certain benefits, such as freedom of communication, support groups, a supportive community, etc.
However, having an anonymous account on Instagram can have a more negative impact on a brand than a positive one, so it's advisable to have an expressive Instagram handle if you want your brand to succeed.
Conclusion: Enjoying the Benefits of Anonymity on Instagram
Creating and managing an anonymous Instagram account allows you to enjoy the benefits of discretion and privacy on a popular social media platform.
By following the steps outlined in this guide, you can take control of your online identity and protect your personal information from prying eyes.
But, Remember, your privacy is in your hands, so take the necessary steps to ensure a secure and anonymous digital experience.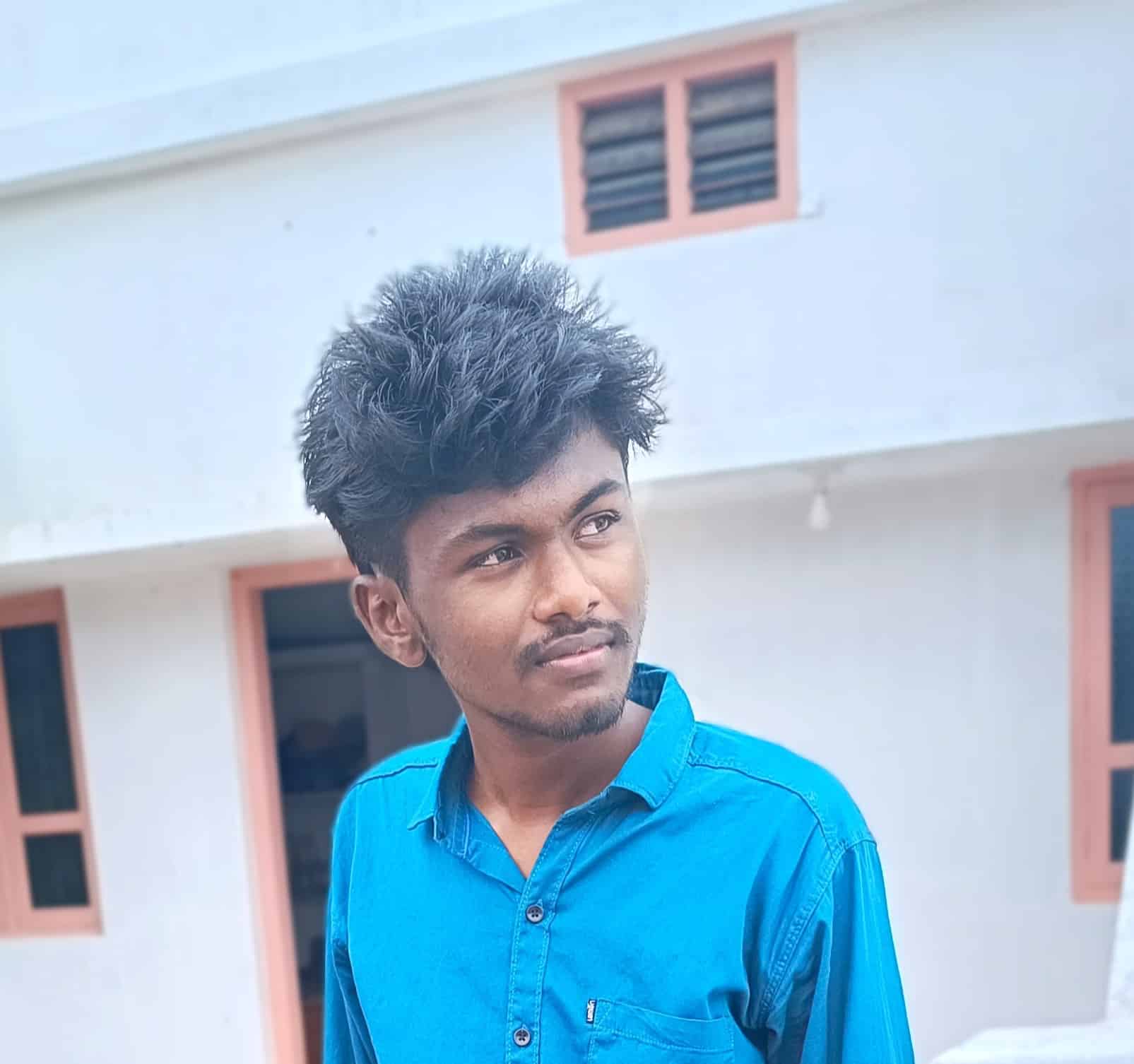 Pon Sunil is an Instagram expert and content writer who offers comprehensive guidance on how to leverage the potential of Instagram for personal and professional growth. With a passion for storytelling and a profound understanding of Instagram's dynamics, Pon Sunil crafts engaging articles on topics such as crafting captions, optimizing hashtags, and building an authentic online presence. His articles inspire and educate individuals seeking to establish a meaningful online presence.